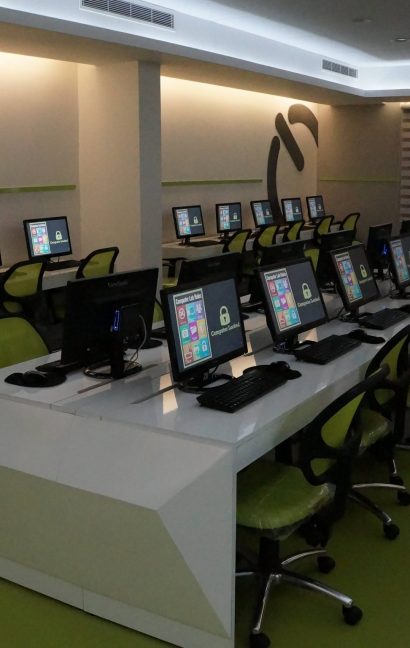 Discover Our Campus!
Amjad is well equipped with industry-standard Laboratories that are designed to integrate teaching with practical application. Amjad makes sure the right facilities are made available to both its students as well as its teachers. The laboratories with the technology embedded in it provides great opportunity for its students to excel.
Click the book thumbnail below to view
Amjad School vicinity offers learner-friendly environment with a fine blend of functionality and contemporary aesthetics. From its firm foundation, there are three main  School buildings that soar to five-storied vertical structure, and a state of the art KG Building that addresses all educational settings and technology. CCTV surveillance system, wide corridors and stairwells, fire prevention system, deployment of security personnel are among the several safety and security measures taken by the School to ensure a safe campus environment. All facilities in the school are IT-enabled with a high security standards, LMS, Fiber optic infrastructure, Enterprise WIFI points covering the whole school buildings' vicinity, dedicated high speed internet to support digital education with safety measures which enabled Amjad to shift the pedagogy from face to face to conduct virtual online classes very smoothly.
Classroom
The spacious well-ventilated classrooms with natural light, provide a conducive environment for learning. Every classroom has audio-visual facilities, interactive boards, lockers for teachers and shelves for Students.
Science Laboratories
The School has spacious, well equipped Physics, Chemistry, Biology and General Science Laboratories. Models, Specimen, Displays, Charts, Learning Kits, Audio-Visual Equipment, etc. help teachers demonstrate, validate and establish various phenomenon, and facilitate children verify theories, relate to fundamental principles and concepts
Computer Laboratories
The School has three air-conditioned Computer Laboratories with high-speed broadband connectivity and audio-visual facilities. The 40 latest computer systems have the latest educational software and hardware required to support students' learning and the effective delivery of the curriculum. The computer labs provide for an individual workstation for every student. In addition, the computer lab serves as a hub for digital assessment controlled by Net Support Software that enables the tutor to conduct, control & monitor all the student activities ethically.
Library
Amjad School Library is well-resourced and air-conditioned with 4 computers and an interactive whiteboard. The internet browsing facility in the libraries enables students to access various online educational resources under the supervision of a librarian.
The library has a vast collection of books that includes fiction, non-fiction, biographies, encyclopedias, storybooks, picture books, dictionaries and reference books on various subjects. The library has a large number of magazines, as well as digital resources. The library holds special events from time to time, which include research for library visits using cubing method. The primary school library has a specially designed colorful story-telling area.
Music Room and Dance Theatre
The Music Room has a variety of musical instruments to learn music – both instrumental and vocal. The Dance theatre provides a smooth performance space that facilitates students to explore various dance forms including classical, western, contemporary and  oriental folk.
Art Room
The Art Room is a spacious facility, with a dedicated workshop space, designed to invigorate the imagination of young students and motivate them to use various mediums and shape their creativity through different forms of art; like paper art, craft, clay molding, wood carving, , mural making by recycling waste, sketching and drawing, and painting on glass, fabric, canvas,  wood and other surfaces.
Activity Rooms
Two theme-based Activity Rooms with educational toys, equipment, learning resources and audio-visual facility help pre-primary students develop gross and fine motor skills through various activities like role play, storytelling, picture talk,  etc. Students also learn concepts through various theme oriented puppet shows.
Counselling Centre
The School has a dedicated Counselling Centre to provide personal and group counselling to children. The Centre serves as space for students to discuss their academic, social, emotional and behavioral concerns related to adolescence and peer group dynamics.
Atrium / Assembly Hall
The Atrium is an expansive space serving as a venue for school assemblies, exhibitions, events and celebrations, performances, indoor games and various co-curricular activities.
Amphitheatre
The Amphitheatre is an ideal venue for activities such as music, dance and drama, concerts, skits, street plays, mimes, tableaux, guest lectures, etc.
Multipurpose Hall
The Multi-purpose Hall is used for organizing various activities such as guest lectures and panel discussions, debates and elocutions, quizzes and recitations, workshops and presentations, meetings and orientation programs, etc.
Outdoor Play Areas
The Pre-primary section and primary section have their exclusive outdoor play areas, with age-appropriate, and colorful play equipment, which facilitates the development of motor skills in the students.
Sports Facilities
The School has a multi-purpose court and an indoor sports complex. These facilities are used for providing coaching to students in various sports and games such as football,  basketball, games like table tennis, chess, etc. Apart from organizing regular physical education classes, these facilities are also used for providing specialized coaching to students in various sports and games.
Medical Room
The School medical room is well equipped facility to provide first aid and attend to any medical emergencies. The students reporting ill are attended by the qualified and experienced trained staff and a visiting doctor. Medical room has beds for students who are unwell.
Cafeteria
The School Cafeteria is a bright, well ventilated, hygienic space with a colorful lively ambience. The cafeteria serves healthy, snacks and meals.
School Transport
The School has a well maintained, dedicated fleet of buses with required safety measures that include tracking system connected with the school control center that monitors the speed, harsh braking, routes, stops & bus maintenance system, first aid kit, fire extinguishers, seat belts and communication facility. The bus crew, including trained staff who monitors student safety, first aid, health and hygiene, punctuality, communication skills, etc.
School Bus Tracking System
Getting your child to and from school safety is our number one priority.
Students who are independent and confident, inquisitive and enthusiastic,
responsible and compassionate. We have the most advanced tracking system to monitor our buses to ensure the safety of all our Students to and from home. The system allows us to view all our buses from the control center where and how they are moving in present and past. The system also monitors information related to students' safety (e.g. speed, fuel level, harsh braking, wrong routes) in real time, and the control center receives instant notifications about the information mentioned.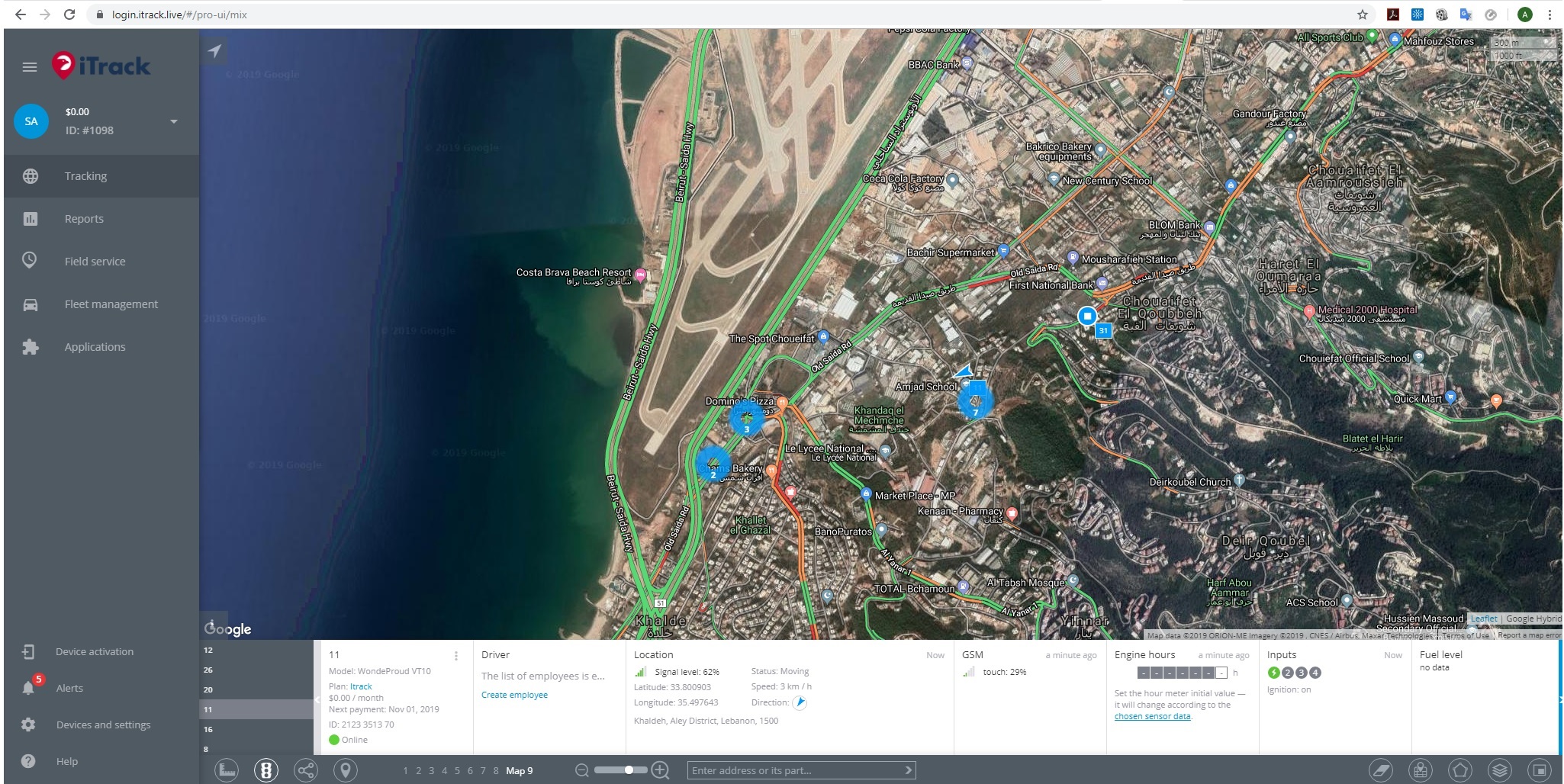 Health & Safety
Amjad is strongly committed to the health and safety of its students and staff. All school policies are developed with the utmost consideration for health and safety, especially during transportation operations and extra curricula activities. As a result Amjad complies with the security procedures by relatively insuring its personnel and students 24 hours daily and by regulation to be maintained throughout the year. Amjad recognizes that all education is a special process in the education effectiveness cannot be completely measured until the students acquire the necessary foundation skills to succeed even in college.